By submitting this online registration form my permission as a parent/legal guardian is granted for any adult representative of the event to obtain necessary medical attention in case of illness or injury to my child. Also, I understand that as a participant, my child may be photographed or videotaped during normal activities and these photo/videos may be used in promotional materials only.
I, the submitting parent/legal guardian, do hereby verify that the submitted information is correct, and I do hereby release and forever discharge all event staff and the sponsor from any and all claims, demands, actions or cause of the action, past present or future, arising out of any damage or injury while participating in the event.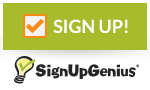 CLICK THE "SIGN UP'" GREEN BOX ABOVE TO ASSIST WITH BMA DISASTER RELIEF/JUST THE CRUMBS MINISTRY!!
Calendar of Events